Debbie Olivera – Assistant manager at Bio-Med Testing Services
Debbie Olivera is the Assistant Manager at Bio-Med Testing Services.  She joined the team in 2009 and catapulted up the 'ladder', starting with processing and working her way through multiple positions and certifications to become the Spirit of the Bio-Med team.  She is particularly passionate about the Proactive Parent Program, assisting clients and new account set-ups.
Debbie has an amazing husband John, and enjoys caring for several 'fur babies' including her Welsh Corgi and three cats.  She loves to read, travel and visiting the mountains, as well as doing yard work and spending time with her friends and family.  Debbie said she feels "blessed to work among an amazing team with the same goal to provide a safer community".
Tina Pinard – DOT Program Manager
Tina Pinard has been a long-time employee with Bio-Med.  In fact, she is one of the cornerstones that have helped Colleen make Bio-Med the success it is today.  Tina started her journey with Bio-Med in 2000 and had several years of experience before Colleen bought Bio-Med and inherited Tina's wealth of knowledge.  One of her roles is as the DOT Program Administrator, and she is well known for her expertise regarding DOT regulations.  She also manages the DOT and Non-DOT Random Program as well as the DOT Audits and entering DOT result processing for transmission to our clients.  Tina said 'Bio-Med has grown so much over the years.  We have a really great team of employees and they are all like my second family.'
Tina enjoys spending time with her husband, visiting the beach, watching movies and attending car races.  She has a full family life with a daughter, 4 step-daughters, 6 grand kids and 4 Pomeranian fur babies as well as 2 cats.
Angela McCloskey
Angela McCloskey has been with Bio-Med since mid-2006 and was another corner stone that Colleen was fortunate to inherit when she bought the company.  She has proven her flexibility and skills, as she has performed almost all duties and positions during her years of service.  She is a strong collector and performs almost all of our onsite collections, and is a welcome and happy face at the front desk greeting our clients.
Angela has a full family life, with two children and 6 grandchildren.   She enjoys spending time with her husband of nearly 20 years.  She likes to travel, go camping, read books, watch movies, as well as sewing, scrap-booking and beach combing in her spare time. Angie said "I love Bio-Med and the people I work with.  Even though I have been here 13 years, I am always learning something new."
Kimmie Teigland
Kimmie is an enthusiastic part of the accounting department with Bio-Med.  She began her journey with Bio-Med in 2017 as the cheerful face to greet our clients at the reception desk, and quickly moved on to her current position as an administrative assistant.  She loves working with the Bio-Med team and stated 'she would not want to be anywhere else'.  'I am very blessed to work with the people in my office, and I am so fortunate to have made friends with my co-workers.'.
In her spare time, Kimmie enjoys reading, cooking, putting together jigsaw puzzles and spending time with her family and friends.
Whitney Reed
Whitney Reed joined the Bio-Med team in 2018.  In her time with Bio-Med she has quickly gone from being the happy face that greeted and assisted all donor's coming in for testing, to ensuring that all Non-DOT test results are sent out to our clients as quickly and accurately as possible.  Whitney would like everyone to know "I could not be happier to be a part of this amazing company.  Our team is incredible and it is my passion to ensure excellent customer service".
She grew up on her family's farm in Stayton.  Most of her childhood was spent playing basketball and riding horses with her friends. She said "I was your typical farm girl and as a teen, summers were spent on my family farm driving either the combines or a tractor." Whitney is married and has a few barn cats and an Australian Shepard/Border Collie named Koda.
Adrian Chavez has been with Bio-Med since mid-2017.  He is a Medical Assistant and is responsible for blood draws, collections for both federal and non-federal drug test, DNA tests, and hair test.  He is also fluent in both the English and Spanish language and is an invaluable member of the team.
Jon Tufares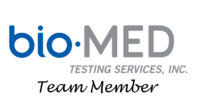 Jonathan is one of our amazing, and well-trained collectors.  He came to us in 2017, with a history in the drug testing field.  He is a dynamic part of our team, and ensures the collections are performed to the highest standards, and in a timely manner to guarantee the safety of our community.
Jon has a full life, with a family including two successful daughters working in the health services industry as a doctor and a nurse practitioner.  He moved to Oregon in 1996 and met his lovely wife.  They rounded out their loving family with a fur baby named Oscar.  Jon loves to cook, gardening in his greenhouse, camping, eating good food, walking with his dog, drawing and sketching landscapes, and he would love to move to Italy.  Jon's moto for Bio-Med Testing 'We are the Dream Team!' says it all.
Kathy Cooper started out with the Bio-Med team in 2016 as a collector.  She has adapted for the needs of the company and swiftly became a processor for Non-DOT results and background checks as well as getting certified.  Kathy is a certified MEAA (Medical Examiner Administrative Assistant) and is well trained in a variety of drug and DNA testing.  She is our front line for customer service specialist, and is always eager to assist in any way possible.
She has three extraordinary children, four exuberant and amazing grandchildren, and two fur babies.  Kathy loves spending her spare time outdoors, reading, listening to music, traveling, or spending time with friends and family.  She said "Bio-Med is an incredible company to work for and the team is so amazing it feels like we are all family."  She encourages all she meets, with a warm and friendly smile and her motto is her driving force 'Live life to the fullest, you only live once'.
Luke Richards joined the team in April of 2019.  He is a part of our growing customer service specialist team, and is eager to help in any way possible.  He has quickly become an invaluable asset for Bio-Med Testing with a bright future ahead.  Luke loves all things sports, and is especially supportive of the Trail Blazers.  "It's really nice working for a company where we all step up to get the job done, day in and day out.  Teamwork makes the dream work!"
Dr. Herren – Medical Examiner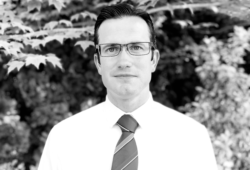 Dr. Brian Herren joined Bio-Med Testing Services in 2015 as our in-house Medical Examiner.  He was born and raised in the Willamette Valley near Salem, Oregon. Dr. Herren pursued graduate studies in chiropractic sciences and graduated from the doctoral program at University of Western States. The doctor has enjoyed success in private practice for 16 years and owns a private clinic, where he practices five days per week, diagnosing and treating a variety of patients.  As a Medical Examiner, Dr. Herren has performed more than 6,000 exams.  Dr. Herren is happy to be a part of the Bio-Med Testing team, where he is able to serve drivers, employers, and the public in a way that keeps transit, commerce, and industry safe and productive. He is available anytime to answer questions, and assist drivers or employers navigate their way through the regulatory process to promote their success and compliance.
Today he enjoys spending time with his family, mountain climbing, hiking, writing, camping, reading the scriptures, fishing, classical and religious music, the performing arts, and studying the stars with his telescope. He, his wife Melissa, and their three boys are actively involved in the church, and Brian enjoys serving as a Sunday school teacher, youth camp counselor, and missionary. Dr. Herren has traveled through Egypt, Jordan, Israel, France, Kenya, Rwanda, Congo, Mexico, Nepal, Uganda, and India.
Maressa Milat – Medical Examiner Administrative Assistant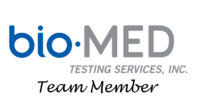 Maressa is a certified MEAA (Medical Examiner Administrative Assistant) who joined our team in 2018.  She assists Dr. Herren with Physical examinations and documentation, as well as performing collections and background checks.  It is her attention to detail that sets her apart in her field, and it is her goal (as it is with the entire team) to ensure a safe community for everyone.
When not working, Maressa likes to read, cook, watch movies and television shows, and spending time with her friends and family.
Dr. Matthew Noble, Medical Review Officer
Dr. Matt Noble joined Bio-Med Testing Services as (MRO) Medical Review Officer in January 2018. Originally from Iowa, Matt is a graduate of Oregon Health and Sciences University Medical School, emergency medicine residency, and medical toxicology fellowship programs. He currently works as an emergency physician at OHSU Emergency Department and several other Portland emergency departments, as well as with the Oregon Poison Center and as OHSU's Medical Director for Disaster Preparedness.
Dr. Noble is actively involved with teaching of medical students, residents and fellow at OHSU. His research interest includes recreational drug use and inadvertent poisoning in children, and his work has been published in emergency medicine and medical toxicology journals and had presented at international toxicology conferences. In his free time, Matt enjoys running, playing soccer, and woodworking. After (8) years in Portland, Matt, his wife, and their dog are still finding new destinations to explore throughout Oregon and the Pacific Northwest.  He is looking forward to continuing a great and promising start with Bio-Med.
Christina Aery – Certified Medical Review Officer Assistant
In October of 2014, Bio-Med began working with an in-house MRO.  Christina Aery (Certified Medical Review Officer's Assistant) joined our team at that time.  Christina assists Dr. Matthew Noble with all DOT results and all Non-DOT results sent on for review.  Christina said "It is my privilege to assist our clients, to ensure job safety and getting the results out quickly to avoid financial strain on employee and employers alike.  I love working with the doctor, employees, employers, third party administrators and laboratories, to ensure that all results are fairly and accurately reported".
Christina homeschooled her children before going into the banking industry.  When the economy had a recession a few years back, her position was outsourced to another state.  "It was the best thing that could have happened to me" stated Christina.  "I was blessed to find a position working with the Bio-Med team.  Colleen is an amazing woman with a heart of gold, and the management staff at Bio-Med are without a doubt the best managers I have ever had the joy of working with.  The staff are all knowledgeable and dedicated to provide the best service possible.  I am passionate about this industry, having watched drugs destroy so many of my friends and family's lives, and believe this is a crucial service we provide".
At the end of the day, you can find Christina spending time with friends and family, cooking, looking for great photography opportunities, hiking, or snuggling with her mini-schnauzer Revel.